3-5 Pigadia Ski Center - Vermio
Last Update: Oct 2011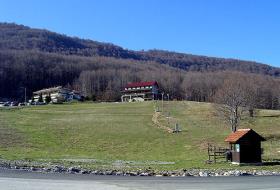 Tel.: +30 23320 44981-5, 44944 , Fax: +30 23320 44981, 44982, 44983
Operating period:
23Dec - 30Mar
Altitude
: 1430 m up to 2005 m
3-5 Pigadia Ski Center is located on the western side of
Vermio
Mountain.
Slopes
Height difference: Minimun: 160 m Maximum: 370 m.
13 downhill slopes, of 9 km total length, out of which:
1 black:

Filippos: Its length is about 2000 m and is considered to be the leading black slope in Greece. Of course, only the first 1300 meters of the total 2000 m is difficult, the remaining 700 m is blue.

4 red

Aristotelis 1: Great red slope 1800 m in length, certificated by the International Ski Federation (FIS) for performing European and World Championships. In this one the Greek Ski Federation commits of the Panhellenic Downhill Championships in all categories for the last 10 years.
Aristotelis 2: Red slope 750 m in length, served by sliding lift and located just below of the mountain's top.
Aristotelis 3: This is the last part of Aristotelis 1, as it uses the last 850 m. Although, is considered as separate one because it has its lift.
Louki: This red slope 800 m in length lies to the right side of Aristotelis 2. Owes its call to its shape, is a real gully, starting from the top of the mountain and ending in the middle of the Paradise slope. After a recent widening, this is an excellent slope, with slight traffic. Thus, the total length is 2500 m.

2 blue

Paradise: The real paradise for moderate skiers. Blue slope, 2600 m in length, the largest in Greece, in a oaks' forest. Pleasant for most of the skiers. Entirely covered with artificial snow.
Philippe Back: Blue slope, 700 m in length, at the end of the Filippos'. Caution is needed in the start point because it is red, but after "paves" in a blue one. Served by its lift.

3 green

Paradise Plateau: It is the last 400 m of Paradise slope, but is considered as separate one, because it has its lift. Excellent slope for beginners, as called green (easy). Advantage of this one is the artificial snow.
Beginners': Two slopes right next to the parking lot, 200 m. in length each. Two baby lifts ensures the safe transfer of the beginners at slopes. It is worth to note that these two have a system of artificial snow, so they have snow throughout the ski season despite their low altitude.

Cross-country ski slopes:
3-5 Pigadia Ski Center is also famous for its cross-country ski slopes. These are certificated by the International Skiing Federation (FIS)- Several International Championships took place here in the past. The elevation difference between them is 95m.


One of 3 km length.
One of 5 km in length.
One of 10 km length.

Lifts
1 double seat aerial chair lift, 1500 m in length.
4 one seat sliding lifts:

Aristotelis 1
Aristotelis 2 
Filippos 
Plateau

2 baby-lifts, 180 m in length each.
Other facilities/services
3-5 Pigadia Hotel: It is a Ā category hotel, has 15 comfortable (double-bed, three-bed or four-bed) rooms with maximum capacity 58 beds, all with a private bathroom, direct dial phone, TV set, and central heating. The hotel has also a restaurant, a snack bar, a meeting place of mountain fans, a fully equipped gym, 2 sauna-rooms (the 1st for 2-4 persons and the 2nd for 4-12 persons), a massage room and locker rooms. The hotel, as the guesthouse below, is operated by the Vermion's Municipal Enterprise of Tourist Growth.
Guesthouse: The guesthouse has 12 four-bed and six-bed rooms with berths, four of which have a private bathroom, whereas communal bathrooms serve the rest. All rooms have a direct dial phone, a TV set and central heating.Its total capacity is 80 beds.
 Shelter of Hellenic Alpine Club of Naoussa, with a capacity of 30 beds, which is available only for teams.
Chalet-Cafeteria: It is located on the mountain's top (at 2005 m.)
2 Ski schools.
Ski equipment rental stores.
Snowmobiles.
Football field, sized 100x64 m on turf.
Parking lot.
Parking lot for 85 trailers (with electricity).
Heliport.
Medical center - First-aid.
Operation period
3-5 Pigadia Ski Center facilities operate daily from December to March, 9 a.m to 4.00 p.m
Useful notes
Due to its excellent infrastructure, 3-5 Pigadia ski center, offers, except winter sports, a variety of activities (hiking, trekking, mountain biking, hang gliding, paragliding). It has also been established as preparedness center for many sports clubs, federations and national teams.
Artificial snow system: established on 2002, and allows continuous and uninterrupted snowing of slopes throughout the winter period, regardless of weather conditions. So for at least five months in winter there is the insurance that there will be permanent snow, which allows programming tourism and sports ski event.
Slopes' formation & covering machines.
Registered Company
Principals / HQ / participations...
Archaeological sites of interest:
Belongs to the company:
Libraries:
Neighbouring ski centers:
Selected accommodation:
Selected tourism enterprises:
Services:
Subsidiaries / affiliates / members...
Excursions to the area from:
Within the area operate: