Archaeological Site of Isthmia
Last Update: Jul 2012
Sanctuary of Isthmius Poseidon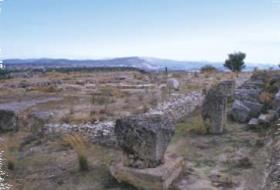 Tel.: +30 27410 37244 , Fax: +30 27410 37244
Opening hours:
01Jun - 31Oct Tue-Sun, 0800-1500
01Nov - 31May Tue-Sun, 0830-1500
The Sanctuary of Poseidon at Isthmia was an important cult and athletic centre where the Panhellenic Games, called "the Isthmia", took place every two years in honour of Melicertes-Palaemon or Poseidon. The site was fortified in about 1200 BC and ritual festivities were performed from the middle of the 11th century BC onwards. The temple of Poseidon was first built in the 7th century BC, and was reconstructed three times from the middle of the 7th century BC to 146 BC. The first Stadium was built during the 6th century BC, while the peribolos of the shrine of Palaemon and the Theatre were added in the 5th century BC. During the Roman period, the temple and the theatre were restored while baths and the circular temple of Palaemon were constructed. The sanctuary was abandoned at the end of the 4th century AD, and later, building material from it was used in the construction of the Hexamilion wall.
The first, restricted excavations, poor in results, were carried out in 1883 by Paul Monceaux and in 1930, by B.S. Jenkins and H. Megaw. Extensive and systematic excavations on the site were conducted by the University of Chicago under the auspices of the American School of Classical Studies at Athens. During the years 1959-1967, Oscar Brooner excavated the temple of Poseidon, porticoes, the sanctuary of Palaemon, the two Stadiums and a Hellenistic settlement at "Rachi", while later, E. Gebhard brought to light the theatre. During 1967-1976, P. Clement excavated the Roman baths and other buildings. Finally, in 1980 and 1989, E. Gebhard investigated the central shrine and the prehistoric settlement at "Rachi".
Executives & Departments
Archaeological service:, Tel.: 27410 32630, Fax: 27410 32631, E-mail: lzepka@culture.gr

37th Ephorate of Prehistoric and Classical Antiquities, Ancient Corinth
Principals / HQ / participations...
As a monument is administered by:
Excavations / Surveys conducted by:
Finds are exhibited at the museums:
Subsidiaries / affiliates / members...
Activities / facilities / services / specialization
Archaeological site
Art & culture
Visiting Information

• Fixed hours

(Admission fee)

• Organized archeological site

Ancient settlement

• Hellenistic period (323-31 BC)

Ancient monuments

• Sanctuaries

(Ancient historical times (1050 BC- AD 324))

(Sanctuary of Demeter & Kore)

(Sanctuary of Poseidon)

(Sanctuary of local heroes (Heroon))

• Baths

(Roman period (31 BC-AD 324))

• Walls

(Mycenaean palatial period (1400-1200 BC))

• Theatre

(Classical period (480-323 BC))

• Stadium

(Archaic period (700-480 BC))

• Altars

(Archaic Hellenism (1050-479 BC))

(Classical period (480-323 BC))

(Hellenistic period (323-31 BC))

• Temples

(Archaic period (700-480 BC))

(Classical period (480-323 BC))

(Hellenistic period (323-31 BC))