ABOUT US
International Publications ltd. is the publisher of high quality directories containing comprehensive information on travel and holidays throughout Greece. International Publications ltd. belongs to Danae group of companies. All companies are related to the travel industry.
Our main publication, Greek Travel Pages (GTP), is the only monthly tourism guide that has established itself, since 1975, as an invaluable source of information for travel and tourism professionals. GTP is a working guide, published in the English language. It constitutes a continuous source of reference and combines practical, accurate, and complete information on tourism, helping thousands of professionals around the world in their daily operations. It has become an invaluable tool for all professionals as it offers reliable and up-to-date information presented in a well structured, user-friendly, and high-quality format.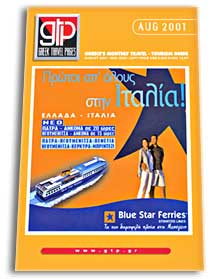 On the 500 pages of GTP you can find the following information.
Industry News
Travel Agents
Transportation

Air Transport
Sea Transport
Rail Transport
Cruises
Yachting
Motor coach
Rent a car

Accommodation

Hotels
Apartments
Villas
Other lodgings

Attractions

Museums
Sightseeing
Tours

Public/Private Sector Support Services

Travel-related services
Tourism & Travel Organisations
Private & Public Associations
Embassies & Consulates
Greek Travel Pages (GTP) is marketed to travel and tourism professionals worldwide. Its yearly circulation totals 115.000 copies with an estimated daily usage readership in excess of 157.000. The average monthly circulation is 7.000 copies.
Subscriptions represent 73% of its total circulation, while the other 27% makes up complementary copies that are sent during the year to non-subscribers as follows:
6,000 hotels & other lodgements
3,000 tour operators worldwide
1,500 commercial companies
2,000 travel agencies
14,000 professional visitors to the int'l exhibitions: BIT, ITB, WTM, PHILOXENIA, MITT, BTF etc.
4,500 professionals who participate at travel & tourism conferences, seminars and meetings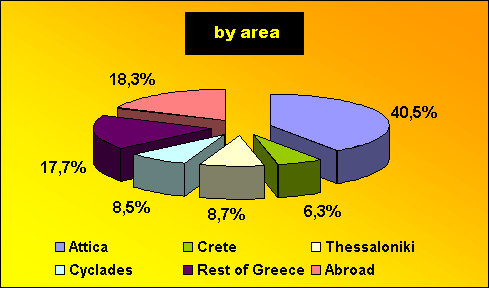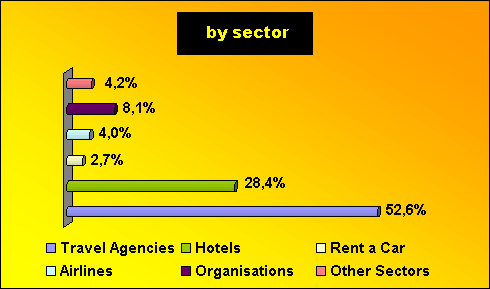 Published twice per year.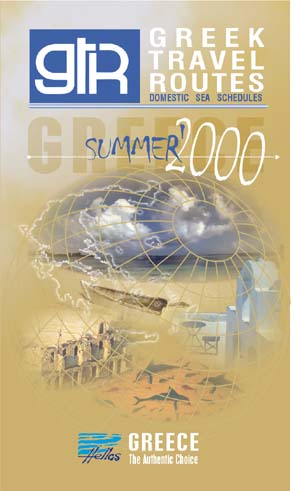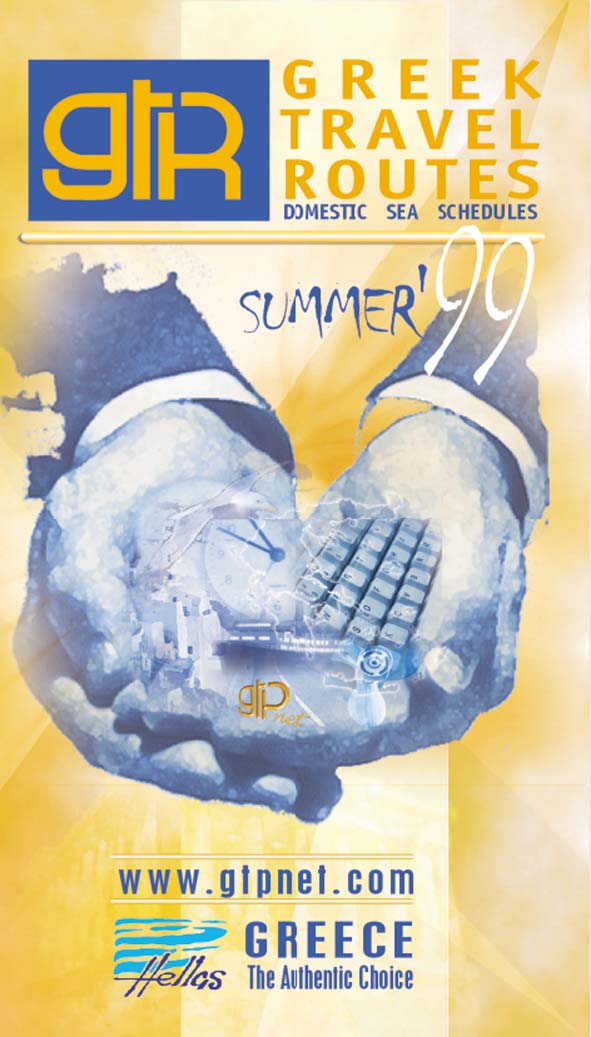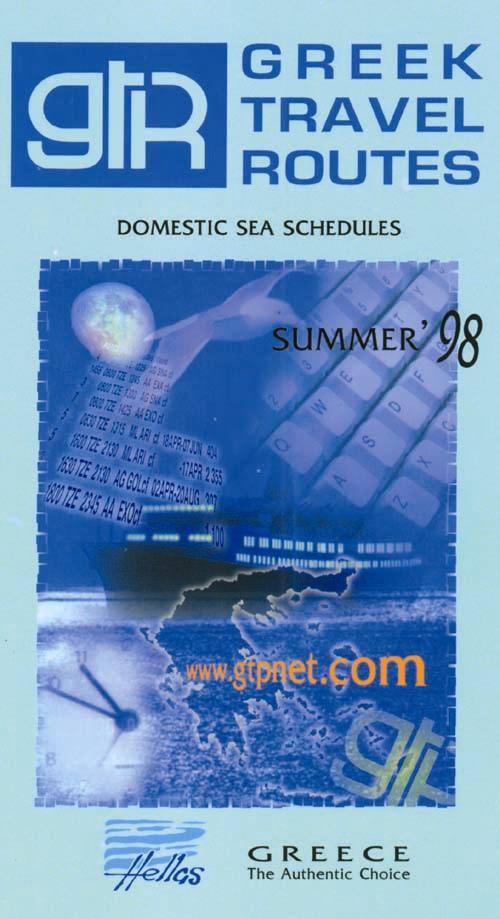 On its 144 pages you can find more than 22,000 Greek domestic sea schedules printed in an airline-timetable style and translated in six languages (Greek, English, French, German, Italian, Russian). It also includes a map that clearly distinguishes the six departure points along the port of Piraeus to the various Greek island destinations, information on Greek shipping companies and a list of their fleets, and details of the Hellenic Tourism Organisation (EOT) offices in Greece and abroad.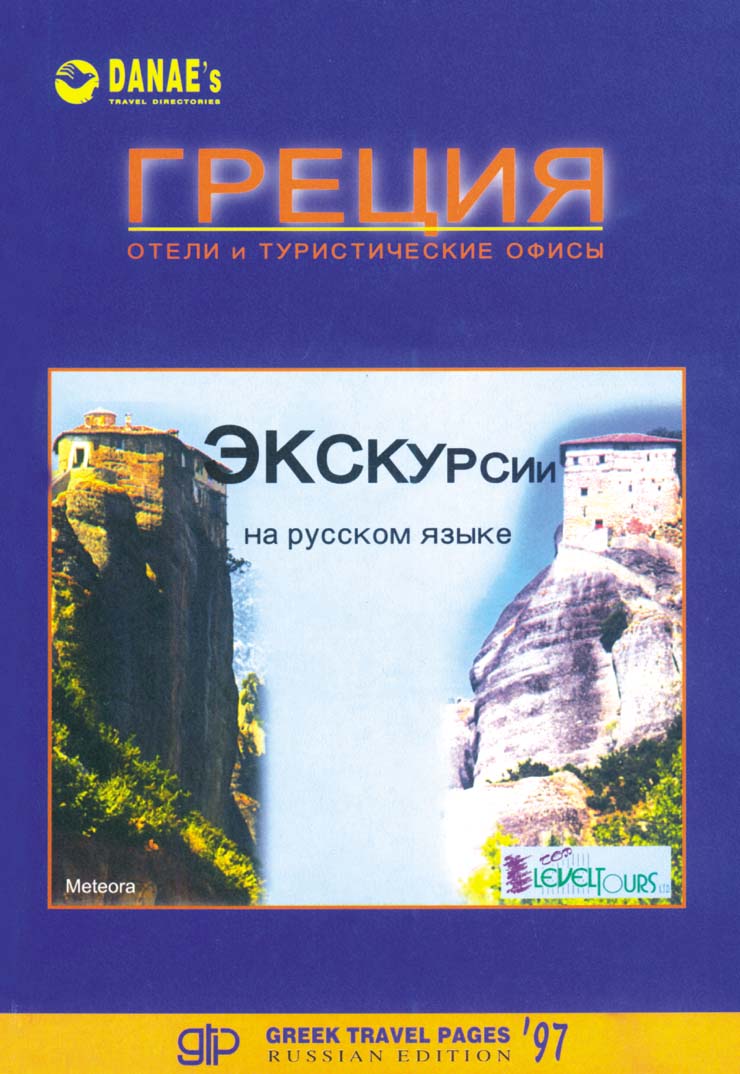 MAR 97 issue
The GTP Russian edition is a unique publication and it was produced to combine, on its 256 pages, information on Greek hotels, Greek travel agencies, and agents featuring Greece from Russia, Belarus, Moldova, Ukraine, and Uzbekistan. The information is presented in both the English and the Russian language.

GREEK HOTELS DISCOUNT SCHEME
for Diplomatic and Consular Corps, special issues
This richly-printed 54-page edition includes listings for 150 deluxe and first-class Greek hotels, complete with full information on each unit, a color photo and official room rates or "door" rates plus the heavily discounted rate offered exclusively to members of the Greek diplomatic and consular corps all over the world. Twelve pages of the guide are dedicated to a listing of all Greek embassies and consulates worldwide.
The site, GTP.gr, is an extension of Greek Travel Pages, which electronically delivers useful information for the planning of holidays.
We provide information to prospective visitors to Greece, as well as people travelling within Greece, relating to the country's extensive network of sea connections and accommodation, and also to provide geographical and useful details of any place in Greece. A wide variety of travel related information are also available through travel directory selection, such as details of travel agents throughout Greece and travel agents abroad selling Greece as a holiday destination, airline companies, shipping companies, yacht brokers, and details of any company related to tourism.
"Enhance travel and tourism in Greece by providing the means to disseminate available information and facilitate travel arrangements"
Provide everything you want to know about Greece.
To offer a content site that provides travel-related information on Greece.
In its first phase, the site is based on disseminating free content in order to acquire a customer base, funded by advertising revenue.
Future objectives: Be able to expand this site to a mixed site (content and sales site) that will encourage online transactions (e-commerce).
Matching the structure, design and content of the site to the needs and desires of its intended users
But most important to lead the public with new products and services (be intuitive rather than just analytical)
Inventing ways to build the site into a wider communication strategy
Avoid the mistake of creating a site that looks as if it has been bolted on to a larger communication system, just to be a part of the Internet phenomenon.
Creating reasons to revisit the site again and again (achieve economies of customer retention).
Finally, focusing on delivering reliable, up-to-date and accurate information in an utmost consistent way.
The Sunday Times (11/97)
This directory is not a riveting read, but it is, potentially, life-enhancing"

"This site, which went online earlier this month, is something of a revelation. You need some experience of Greek ferries to appreciate quite how impressive this is. Impressive stuff-although, of course, all the information in the world won't make the ferries run on time."

Thea (5/98)
Cool site award.
MJourney's Selected Sites (2/99)
"Greek Island Hopping aims to provide you with complete and accurate information on Greece's sea schedules."
Netscape search (6/00)
Editor's Choice
Below is just a sampling of some of the great comments we have received from our customers. If you have any comments that you would like to share with us, please visit our feedback area.
Comments on our web site gtp.gr
"THANK YOU! THANK YOU! THANK YOU!
Euxaristo poli! (sorry my computer's greek is worse than my own)
This is very exciting, my husband and I travel to Greece every 2 to 3 years and have developed a very fatalistic attitude about the Ferry Schedules . . . I am sure in some ways, due to weather and "greekness" some things will never change, but it is wonderfull to be able to access teven this much information from what can only be described as "very far away". Please keep up the good work!"
Paula Swenson, 21/1/99
"Compliments for the good site, it is very useful and well done."
Maurizio Savoni, 3/3/99
"Congratulations!
Your web site was added to MJourney's Selected Sites on 12-Feb-1999 under the category Travel_and_Tourism. MJourney has put together a list of only the best and most useful Greek web sites, based on their content and design. We felt that GTP - Domestic Sea Schedules definitely deserved to be on this list. Here is the review of your site:
"Greek Island Hopping aims to provide you with complete and accurate information on Greece's sea schedules."
Thank you for contributing such a great web site to the on-line Greek community!"
MJourney Support, 6/3/99
"I found this site to be invaluable. I will be going to Greece in a month with no particular travel plans, but found it increasingly difficult to find any information on ferry schedules and costs. Your site provided me with all the information in regards to scheduling - thanks!"
Daniel Henderson, PPL Marketing Services, 18/4/99
"We connect and find very useful information. Great Job, for Greek Travel Routes."
FONDACO VIAGGI, 21/4/99
"As of tourist, I appreciated your web site. It was very helpful for our trip planning."
D. Lemieux, 29/4/99
"This is a WONDERFUL site. For over two months I have been trying to get ferry schedules for some of the smaller Greek islands so we could plan our holiday this June. I've contacted travel agents in Greece and Greek ferry companies but never received a definite answer from anyone. I really love your site; it's comprehensive and easy to use. Now we can finally start planning our holiday in Greece! Many, many thanks for this fabulous service."
Joseph Rek, Edmonton Public Library, 29/4/99
"How wonderful it is to see such a comprehensive site as this one considering how hectic the ferry and boat schedules can be! You have provided an invaluble service to travel agents and clients alike. Keep up the good work."
Anastasia Damianeas, Hermes Travel Corp., 24/5/99
"I am extremely impressed by the detail and wealth of information your site provides."
Eugene Cazantzes, CAZ Enterprises, 3/6/99
"You have been the greatest help and I am passing your name and e-mail address on to my travelling friends."
Carol Sowers, 7/6/99
"A most informative website. After visiting quite a few, its a nice change to get information quickly and nicely presented, and search forms that work! Very impressed..."
Nicola Town, 25/7/99
"Many thanks to you for helping me make life easier in planning my trip to Greece and her islands"
A J Ogborne, 26/8/99
"During last summer I try to find locally information on sea connections between Greek islands. Impossible! Eventually I discover on Internet your fantastic site and I found all the information needed. Thank you and congratulations for your service."
Valino Gianluigi, 6/10/99
"great site ! good job ! the information given is reliable and complete . I used it for my last holidays in Greece (kyklades) in September 1999 . Please go on. Congratulations !"
Husemann, 6/10/99
"Efcharisto poli! Thank you for a WONDERFUL site! I have used your site frequently and recommended it to countless other travellers. . . don't ever stop providing this fabulous service! Now if we could only encourage more Greek Travel Agents to use your site . . .the world would be a happier place! Again, many thanks -- Paula"
Paula Swenson, 22/10/99
"Website of the Week-Ferry timetables This directory is not a riveting read, but it is, potentially, life-enhancing"
"This site, which went online earlier this month, is something of a revelation. You need some experience of Greek ferries to appreciate quite how impressive this is. Impressive stuff-although, of course, all the information in the world won't make the ferries run on time."
The Sunday Times, 30/11/97
"Thank you for your good service during the last years!"
Ernst Frank, Autz & Herrmann, 4/4/2000
"The GIH is truly excellent work! Keep it up and keep it free! (Why aren't advertisers lining up to buy space at your site yet?)"
Constantin Pechlivanidis, Arthur Andersen, 2/5/2000
"A splendid site and a tremendous help finding out everything about ferries and possibilities."
J.L.G.M. Hendriks, HACO, 21/5/2000
"Your site is great and quick. Thanks for your site it help really to prepare a good trip in Greece!"

Massuel, 2/6/2000
"WHAT A FANTASTIC SITE ! CONGRATULATIONS FROM PARIS, FRANCE"
JACQUOT, 16/6/2000
Comments on our publications
"Let me seize the moment also to congratulate you on the splendid edition GTP has evolved to, thanks to your far-reaching efforts; its profusion of useful and fully updated information has indeed proved of great suport to our continuous efforts to better assist the American public and its professional entities, in their familiarization with Greece. Keep up the good work."
George Kouros, director, Greek National Tourist Organization, New York, 29/12/98
"Last year we went to your marvelous country and to organize our trip, the "Greek Travel Pages" was very useful to us."
Ciao Special Holidays, F. Wautiez, Brussels, 10/2/86
"I personally want to congratulate you and the whole staff of the Greek Travel Pages for a job well done and I want to sincerely thank you for providing me with accurate and reliable travel information on Greece."
Irene Biliouras-Pyle, GNTO, Toronto, 24/9/92
"I also use this opportunity to express my congratulations for the excellent technical standards of this publication as well as for the accurate and always properly updated information especially on International Fares and International Flight connections. You can rest assured and confident that GTP is not only used as a handy manual by our Travel Trade colleagues, but also plays a considerable and active role in the promotion of Greek Tourism abroad."
Thales Serafimides, Varig-Brazilian Airlines, Athens 12/11/80
"We have in our hands your publication Greek Travel Pages for which we wish to congratulate you and your staff. It is of an excellent standard and contains accurate information which we find very useful indeed."
Groutas Tourist Agency, Cyprus, 5/4/76
"Being in travel business I find it very useful and I presume that it must be a necessity to any travel agency, hotel or business man travelling to Greece or even transiting through Greece for few days."
C. Lyssiotis, Manager, Lyssiotis Travel Agency, Cyprus, 9/7/76
The SKAL club C.R.M. (Committee Regional Mediterranean) honoured GTP in May 1995 with the Recognition Award for its "valuable moral and material contribution". The Hellenic Association of Travel and Tourism Agents (HATTA) presented GTP with Award for its "valuable contribution to Greek tourism" in November 1994. GTP is also the winner of The Tourism Journalists and Writers Association's "Best tourism guide" award in December 1989.
But, our most important award is your visit and the comments we receive daily from the thousands of professionals around the world who use GTP and benefit from it.